Input data suddenly
Easily be copied from the input history
You can set the cutoff date
Account, edit category
History, category view graph
Fuel management, such as gasoline, add a new item
Management of payments that occur regularly
We are used to manage the payment on the iOS calendar set from the holiday calendar
Register locations
Document management through (c) iTunes(c), or iCloud(c)
Passcode feature
Input Data
Confirm date
Drag category icon on number button area you want
Confirm account
Input number
Set title in detail button
Done.

Default account is cash.You can add account like banking account for distinguish data.
Copy data from past data for new transaction from watch icon button.
You can change currency of each accounts optionally.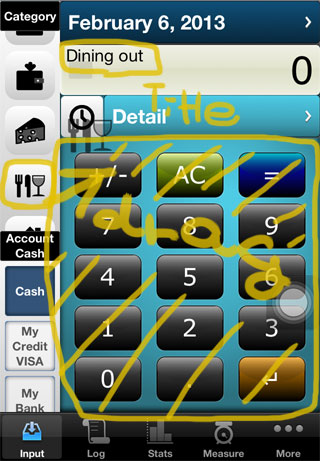 ↑
Measurements
Measure efficiency of articles
Measure ratio with log value with various unit or elapsed days.
Display price, efficiency and cost per log unit graph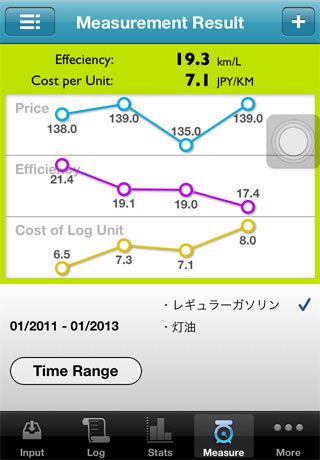 ↑
Manage Recursive Payment
You can manage recursive payments information
Auto generate data based on the payment setting
Select your holiday calendar of iOS device.
Need calendar setting on your iOS device for auto create transactions.
Download iCal Holiday Calendar from Here and setup from the App.
Change setting, update all created data and if delete setting, data was removed.
If your setting period ended, you can hide the setting for do not care.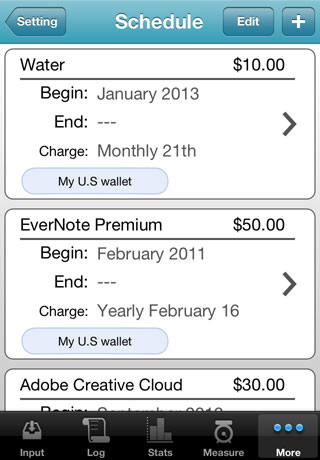 ↑
Others
Regist Location
Share documents with iTunes
Export data as CSV file via Mail or iTunes
Synchronize data with iCloud(c) and share data with various your iOS devices.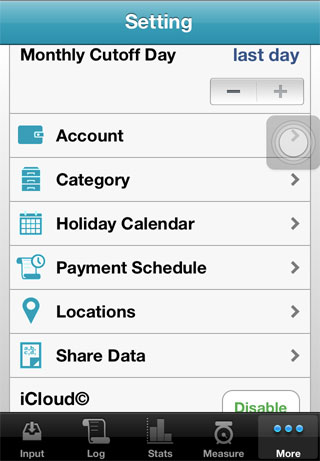 ↑
Version History
Version 1.3.0 [17 May 2013] add iPad interface as universal app.
add search history ui.
add feature edit image.

improve list of history image.
Bug fixes that can margins in the photo.
Version 1.2.0 [1 May 2013]
Of debit configured account
Set the settlement date of history.
Has been changed to be aggregated based on the settlement date.

Improved stability of image registration.
Fixed the behavior of the memory shortage.

Version 1.1.0 [18 Apr 2013]
*Add Feature
Option of filter amount 0 in category stats.
Register Log Images.
Modify category graph design.
Add reset button for delete all cloud data.
added language resources. *Modify
Improved stability and file synchronization performance.
change image synchronize file format for large file.
*Fix
date relational for aggregate.

Version 1.0.2 [28 Mar 2013]
Add Language Resources.
Bug Fix.

Initial Release.
↑
App Store is service marks of Apple Inc.
iPhone, iPod, iPad, iOS, iTunes, iCloud are trademarks of Apple inc., registered in the U.S. and other countries.